An Austin Family Law Firm Dedicated to the Interests of our Clients.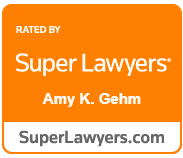 The Law Office of Amy K. Gehm, L.L.C. is a full-service family law firm, committed to bringing positive resolutions to families in Travis, Hays and Williamson Counties. Our goal is to complete your case through either settlement or trial with as little emotional and financial cost as possible.
As an Austin divorce attorney, because we handle only family law matters, we truly understand the complexities and the relationship dynamics involved, particularly when there are children.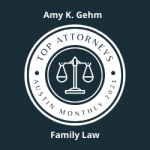 We focus on understanding our client's goals and develop options for a truly customized approach to family law. We provide comprehensive and realistic advice to our clients, and strive to give our clients the best legal assistance possible through:
Supportive and practical representation

Accurate advice on the law

Goal-specific and innovative legal and non-legal options

Sensible strategies

Commitment to negotiation before litigation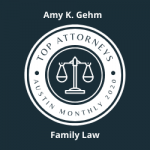 As an Austin divorce lawyer, we know that it is typically in the client's best interest to resolve family law matters outside of the courtroom – and we employ a variety of methods to facilitate this, including negotiation, mediation and collaborative law.
We take pride in the fact that the majority of our client's cases are resolved out-of-court with satisfactory results. We encourage settlements rather than trials.
We also understand, however, that litigation is often necessary to protect the well-being of our clients and their families. Our experience ensures the effective presentation of each case, and gives our clients the sound legal representation they need to secure their families' futures. When litigation is warranted, we proceed in a thorough and determined manner.
Whether you're looking for a collaborative approach to settling your dispute, or require litigation to resolve your matter, Amy Gehm's experience, compassion and dedication ensure that you have an effective advocate in bringing your family law matters to positive resolutions.